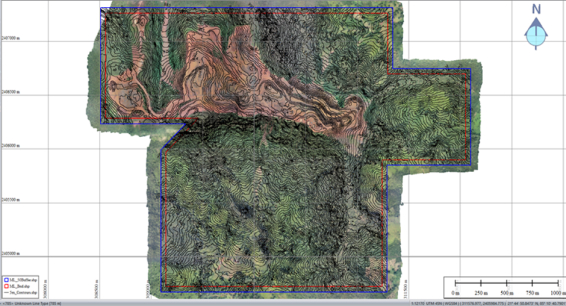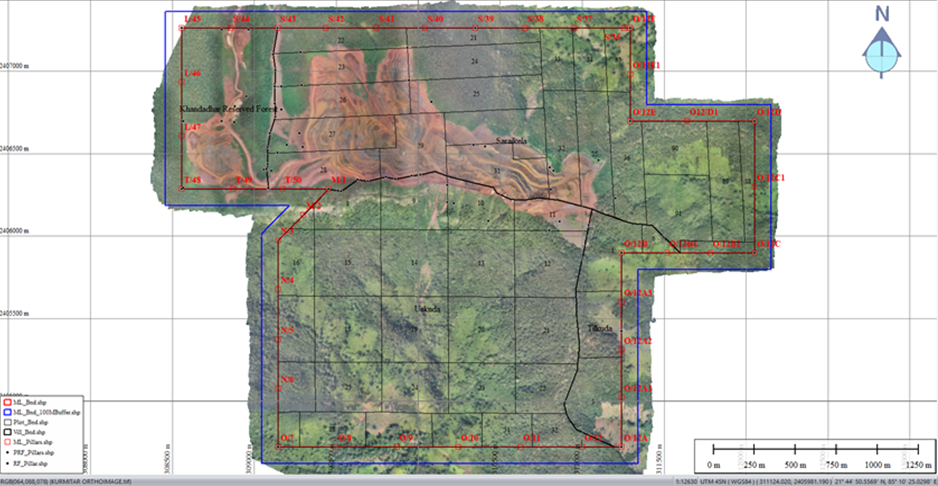 ML area contouring
Contours can be generated throughout the mining lease area at any specific interval from 0.1 m to 0.5m, contour lines can be generated for a depth analysis.
We are also using the third party software for better accuracy of contours.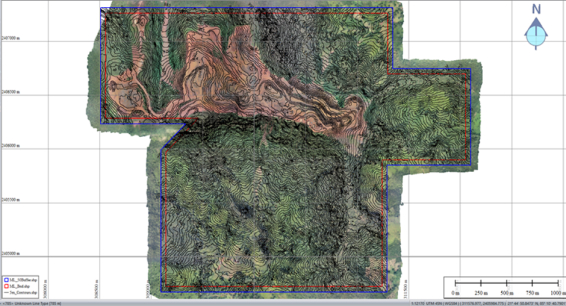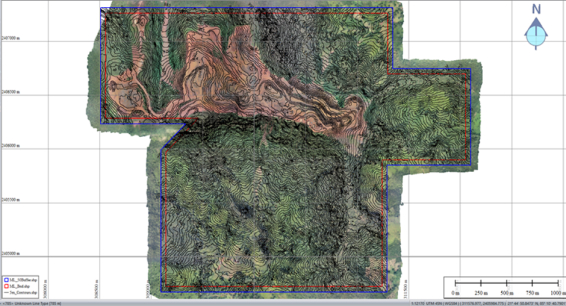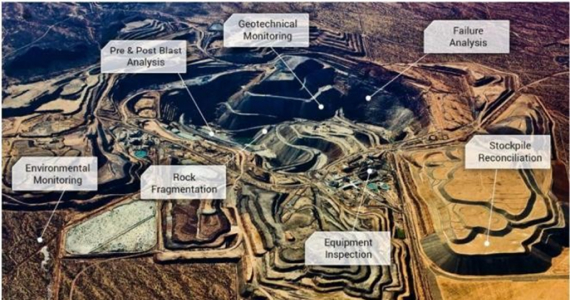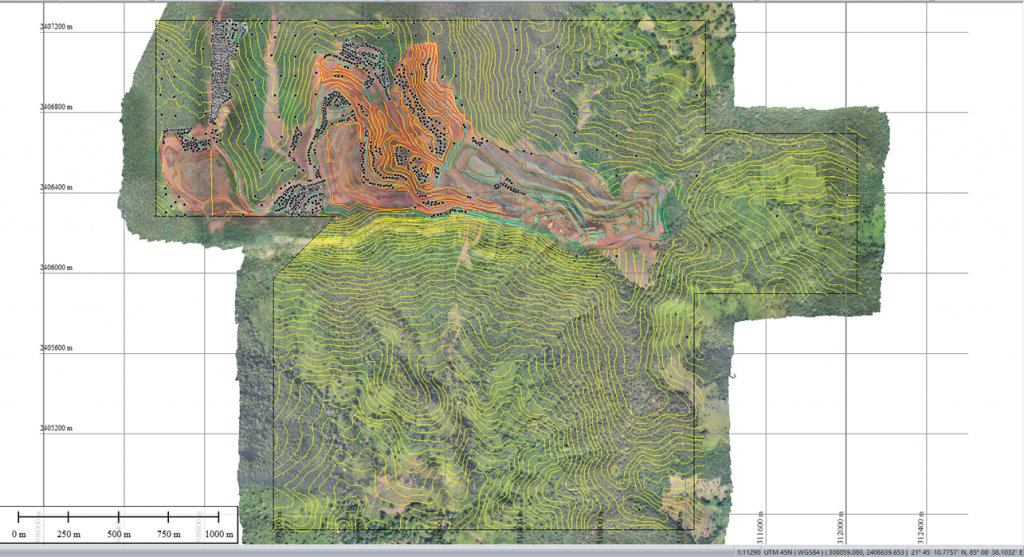 Survey of Quarry, Dump and other surface features
Create a digital map of the mine site, showing ramp, haul-roads, mine zones, dumps, infrastructure etc.
Updating surface features (bench Toe & Crest of quarry and dump) from time to time for statutory compliances.
Year-wise development plan can be super-imposed and properly marked on the field for better execution mining plan.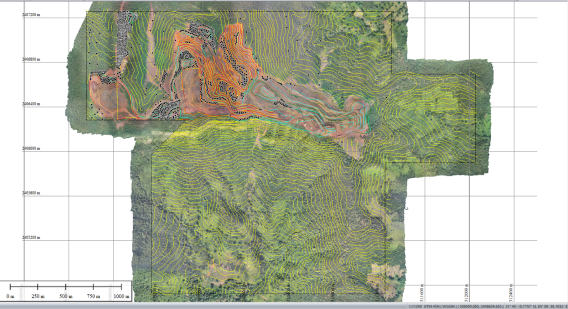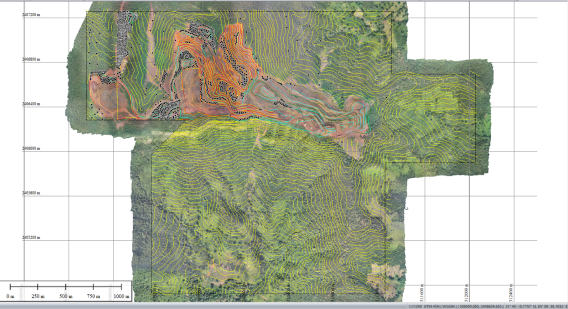 Survey of Quarry, Dump and other surface features.
Development plan Monitoring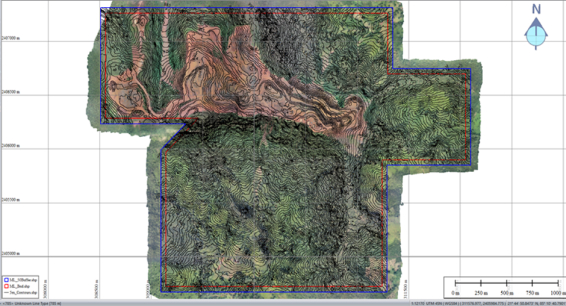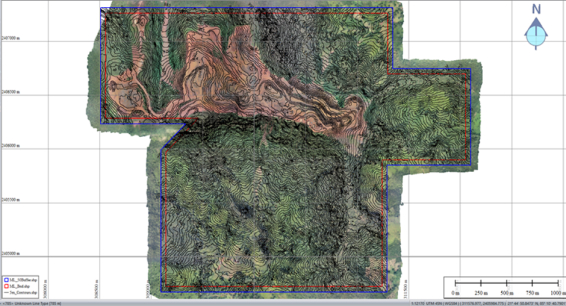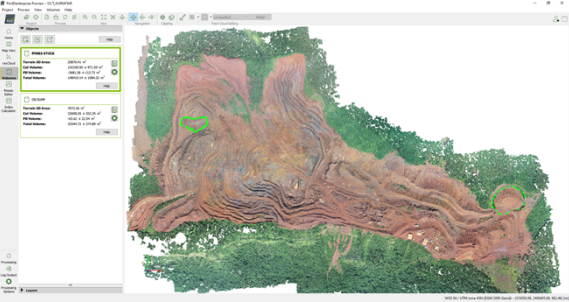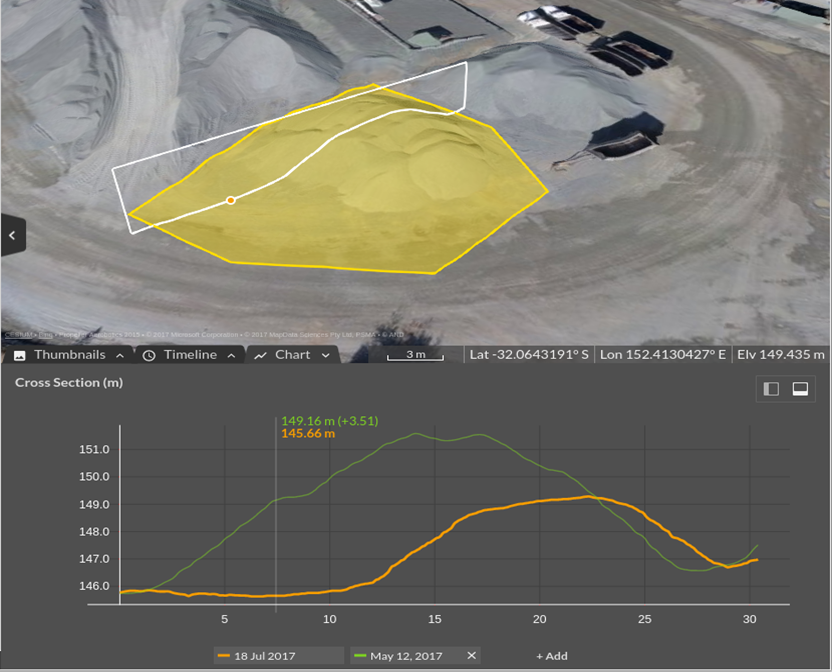 Excavation Quantity, Ore Stacking & OB Dumping, Volume Measurement and Planning.
Stockpile management is perhaps the most widely used worksite application for drones, and for good reason: drones have completely transformed this common workflow.
The days of "walking a stockpile" (the traditional approach whereby a surveyor takes measurement of numerous points on the each pile in order to calculate stock volumes within a spreadsheet) are surely numbered.
Volume can be measured in compare with the:
From Initial local coordinates (Total Station)
From Designed or planned surface
From another data-set (comparing with the previous survey data)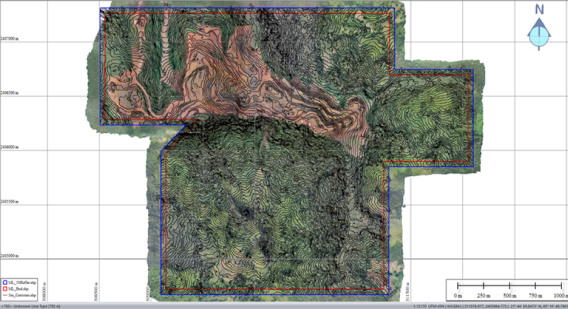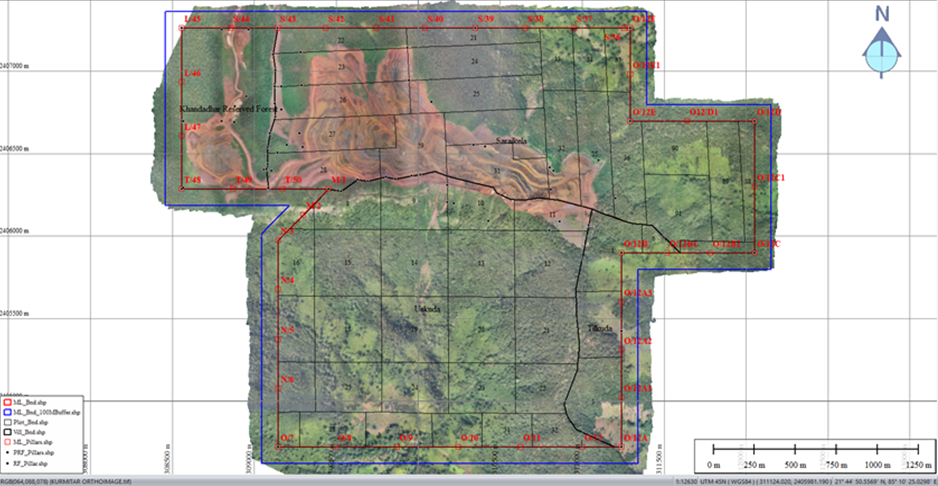 Quarry Volume excavation Calculation
Facilitates site managers to check monthly pit volumes and compare the current surface against previous datasets.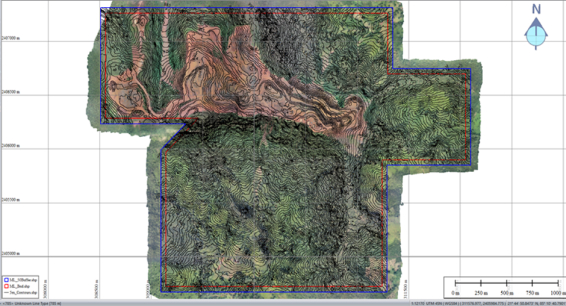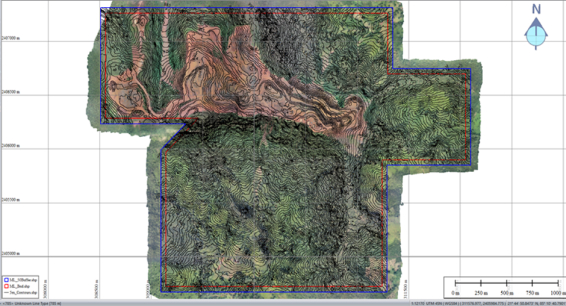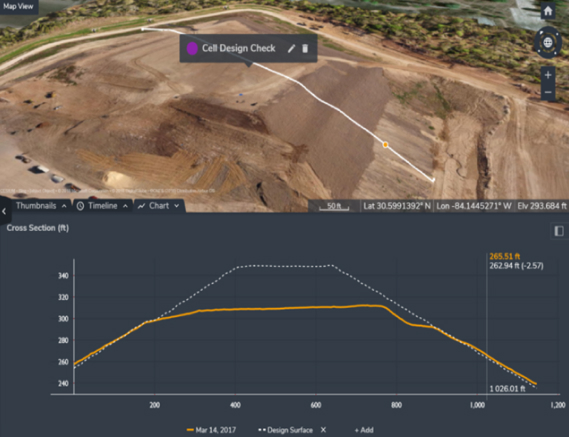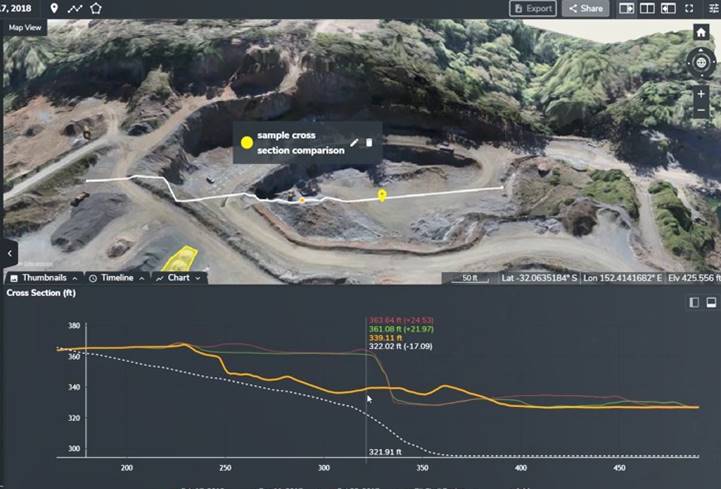 Quarry & Dump Slope monitoring.
Drone data provides an accurate and up-to-date visualization of worksites allowing for better pit and dump design and management. With regular flights, sites can build up a visual record of changes over the time, allowing site managers to check weekly/monthly pit volumes and compare the current surface against previous datasets.
By overlaying KLM design files on a 3D model within the GEOID platform, teams can check conformance of the actual surface and determine the exact volume of material that needs to be extracted to meet the design. Modelling sediment flow on drone-captured elevation maps also allows for better planning of tailings basin operations. Upload the approved planning surface to platform & compare & plan the excavation planning accordingly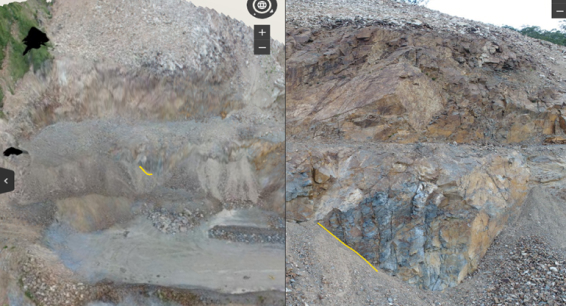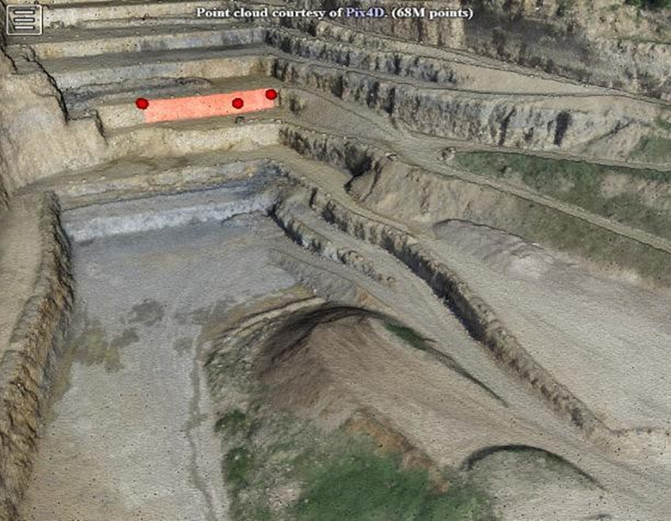 Inspections
Drones are the perfect tool to quickly and inexpensively inspect hard-to-access areas. High-resolution images, including details and aspects that may not be visible from the ground, are used by multiple departments in a variety of inspection workflows. Geoid Drone survey helps environmental departments ensure that site boundaries are preserved and protected areas are not disturbed. Photo Pane view helps geologists perform accurate geotech mapping and bench face inspections, and assists in the close monitoring of fixed plant.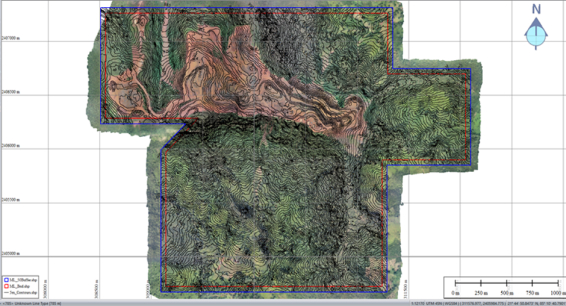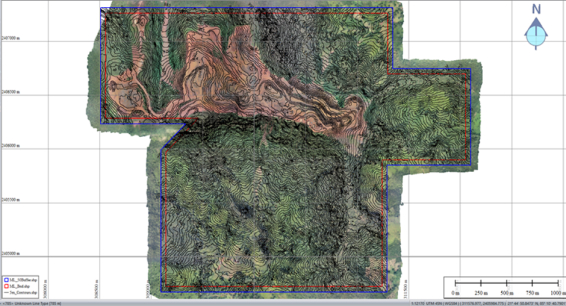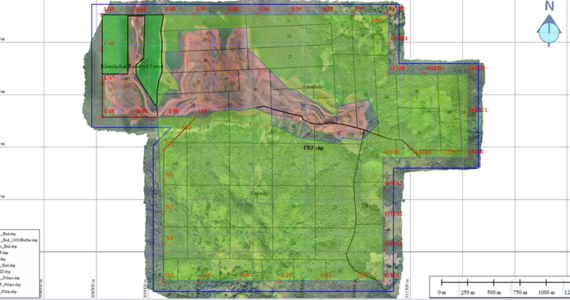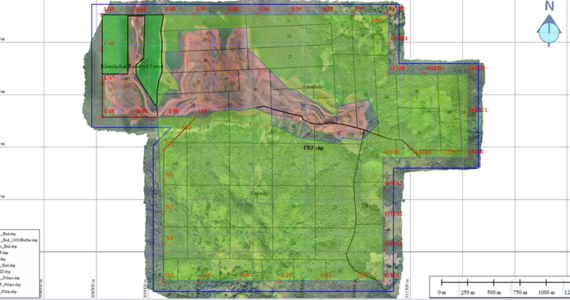 Forest Area, Plantation, Tree density etc.
Marking of Forest Area over Ortho-mosaic image with-in prescribed area.
Plantation work can be effectively monitored.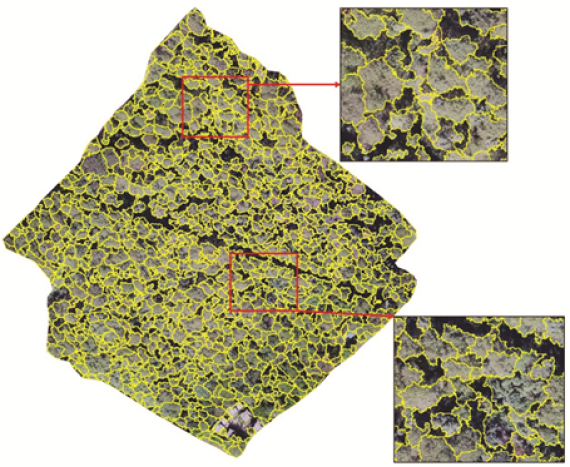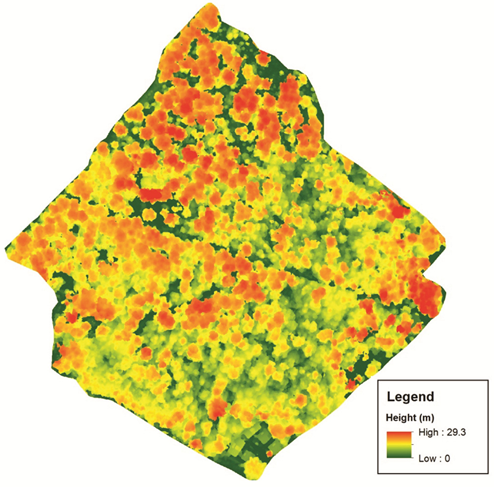 Forest Area, plantation, tree density etc.
The ground inventory consists information on tree species, tree height (using laser hypsometer) and individual tree crown measurement in 10 sample sites of 0.1 hectare plots.
UAV image was used to identify dominant trees (top canopy trees). The community commonality between ground survey and UAV-based identification was compared with Sorenson's coefficient11 as given below. The coefficient value ranges between 0 and 1. Higher the commonality, closer is the value to 1. Sorenson's coefficient (CC) = (2C/S1 + S2),
where C is the number of species the two communities have in common, S1 and S2 are the total number of species found in community 1 (field inventory) and community 2 (UAV image identification) respectively. The CPA during field survey was estimated for individual tree crown based on the following formula12 Canopy area = π [(CDW × CDP)/4], where CDW is the widest canopy diameter, CDP the perpendicular canopy diameter and π is 3.147.
Canopy height model (CHM) was generated by subtracting the DTM from the DSM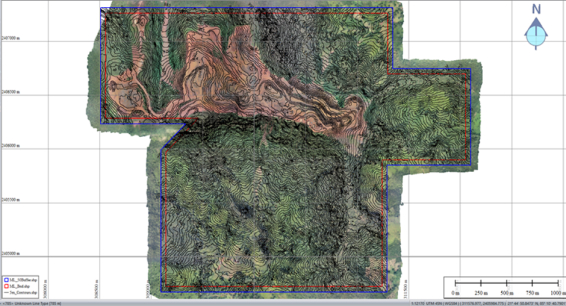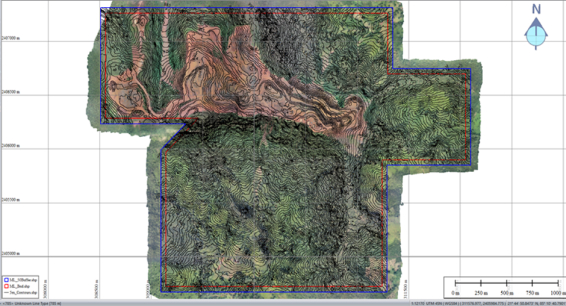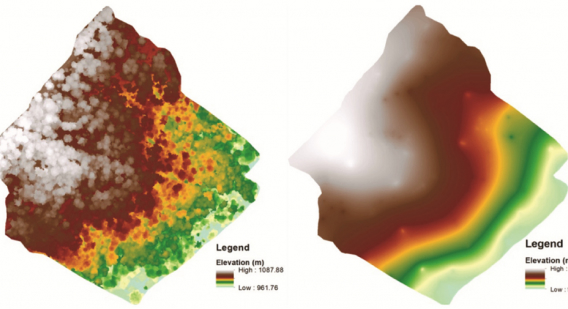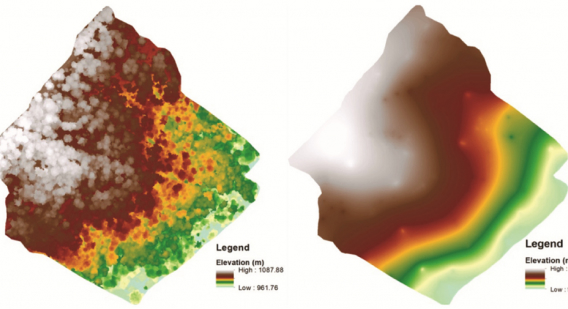 Forest Area, plantation, tree density etc.
The current use of drones in forestry applications is still at an experimental stage, but with great potential in the near future.
The increasing accessibility in terms of cost and size for LiDAR and infrared sensors along with data combining methodologies will highly improve the utilization of UAVS in forestry.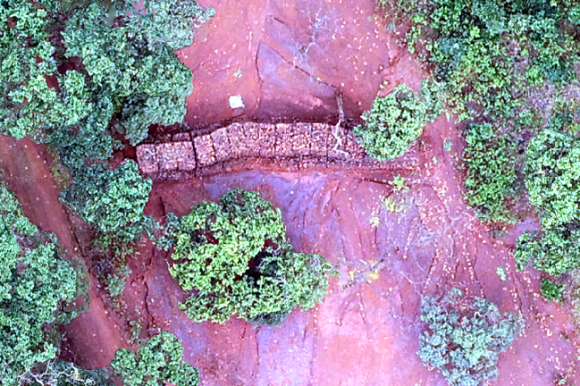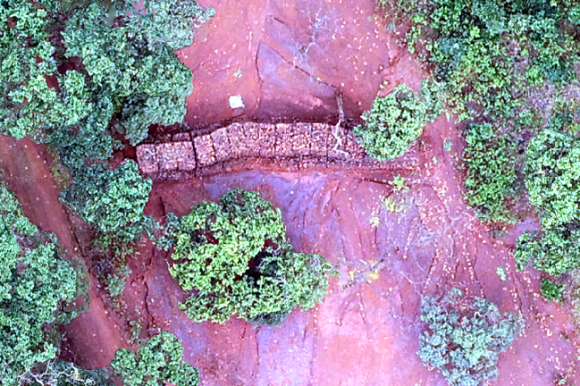 Surface run-off management and Monitoring of other Environment Protection Measures
Mapping and monitoring of different environmental features Over Drone Ortho-image and DEM
Garland drain , Retaining Wall, Check dams, Check Wires, Settling ponds, Contour trench, Monitoring Stations etc. can be checked as per proposed v/s actual.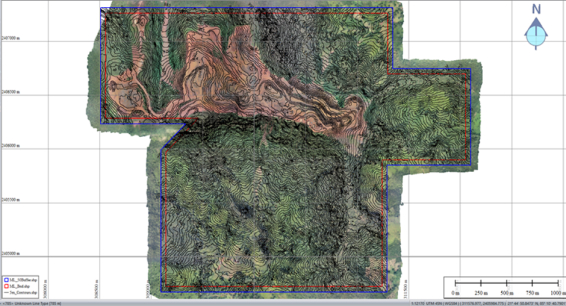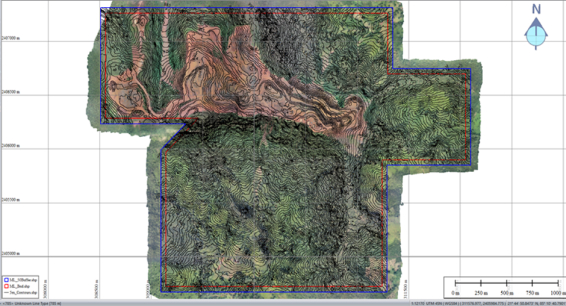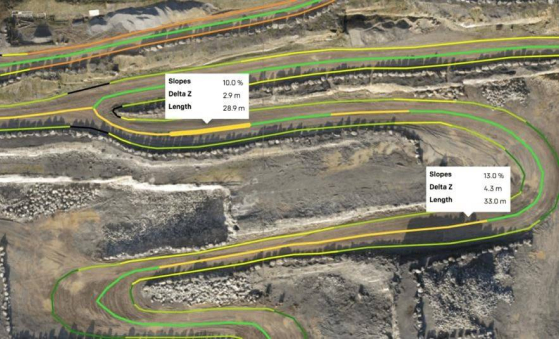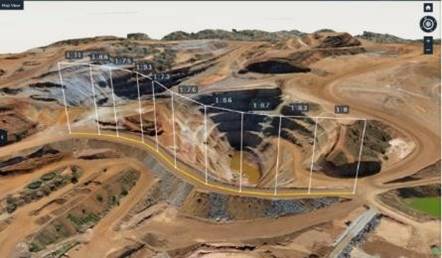 Haul road analytics overlaid
Drone data makes it easy to assess haul road conditions on a regular basis and allows for accurate traffic planning. Advanced analytic options available which enables site personnel to calculate haul road lengths, measure slopes, gradient and check roads against design and safety requirements with a few clicks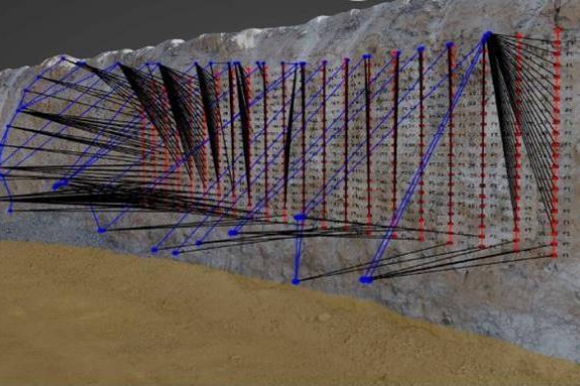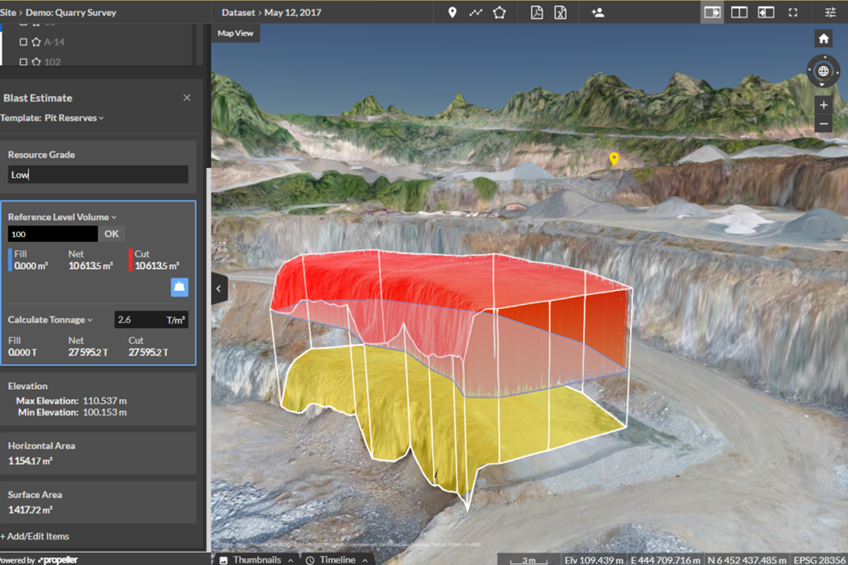 Quarry & Blasting
Any blast area can be easily and inexpensively surveyed with a drone. Geoid processes the raw data, and presents it as accurate 3D models, Orthophoto and digital point clouds, allowing for easy drill depth calculations and further analysis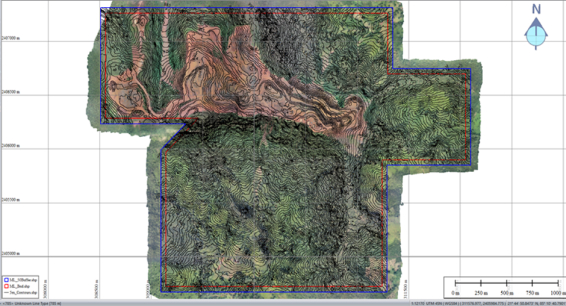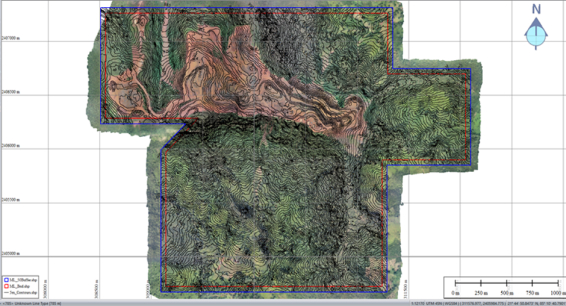 The output generated from drone survey can help in analysing and easily finding out the major safety aspects like
Bench height & width,
Haul Road Parameter such as Gradient & Width,
Road curves
Road Conditions,
Pre Blast & Post Blast rock thrown analysis & Muck-Pile analysis
Slope stability of bench & dumps
Traffic Management
Power line Mapping
Water-shed analysis
Surveillance of Mine Site
Motion Tagging & Tracking of animals
Tree Monitoring
By acquiring regular aerial survey data the mining operation can ensure environmental compliance to local regulations.
Land use can be monitored and any encroachment on company property quickly detected.
Effective planning of crushing, screening plant.
Calculation of lead distance & traffic route management
Effectively grade control through blending of various quality from different locations
DRONE SOLUTION
Topographical survey
Land use Plan
Quarterly surface plan updating
High resolution Arial image
Environment plan monitoring
Surface runoff management Plan
Statutory & other limit monitoring
Tailing dam survey
Drone Surveying and Mapping Services
Topographic Mapping & Photogrammetry
Route Surveys
Environmental, industrial & utility inspections
Accident scene documentation/reconstruction
Quarries & Mining Operations – volume computations
Canal inspections
Ice/open water monitoring
Surveying and mapping in dangerous environments including hazardous waste sites
Wildlife Monitoring
Pollution Monitoring
Agricultural crop monitoring and inspection
PRINCIPLE OF DRONE PHOTOGRAPHY
What is meant by drone survey?
Drone surveys are a faster, safer and more cost-efficient way to survey at height. Sometimes referred to as aerial surveys, UAS (Unmanned Aerial System) surveys, or UAV (Unmanned Aerial Vehicle) surveys, drone surveys are an increasingly popular method of surveying form the air.
"How Drone Photos Turn into 3D Surveys?"
We get this question all the time. It's a good one, and definitely something you should care about
Producing accurate, useful 3D drone surveys requires three ingredients: aerial drone imagery, good ground control, and the science of photogrammetry.
The gist of the science
Essentially, if you see the same feature from three or more known positions, you can triangulate its location in space (a.k.a nail down those exact X, Y, and Z coordinates). A feature is any visually distinct point in an image.
If you took an average image from your survey, you'd easily be able to pick out many "features" between images. The more features you match, the better you can relate images to each other and reconstruct objects within them. This is exactly what photogrammetry software does for one feature, and the next, and the next, and so on, until it's covered your entire site.
Once you have a lot of these features—think millions—you can create a "cloud" of points. Each point has a matched feature describing your surveyed area in that location. You can then turn your point cloud into any regular outputs used in geospatial software, like a 3D mesh or digital elevation model (DEM).
"How Drone Photos Turn into 3D Surveys?"
The best way to visualize this is to use your eyes—literally. Your eyeballs are using photogrammetry all the time.
You have two eyes (two cameras), processing a live feed of your surroundings. Because your eyes are slightly apart, you're getting two different inputs at slightly different angles. (Test this yourself by holding up a finger in front of your face. Look at it with one eye closed, then the other. You'll notice your finger jumps relative to background objects.) Your brain knows how far apart your eyes are, which allows it to process this info into a sense of distance by merging both feeds into a single perspective. (If you've ever tried to catch a ball with one eye closed, you know it's difficult, as you have no depth perception.) Your mind is rendering a live depth map of the 3D world from two 2D inputs—just like how Propeller renders a 3D survey from many 2D photos.
Once you know the shape of something in 3D (from the features and points above), you match that up with its visual appearance. This is where image stitching and "ortho-rectification" come in. Stitching is like putting together a jigsaw puzzle. When you assemble one, you look for common features—corners, bright shapes, etc.—to fit together everything more easily.
Why use Photogrammetry for Surveying and Mapping?
Photogrammetry has a long history of use in the surveying and mapping field. Photogrammetry can be used for point measurements or for generating point clouds. Compared to its chief rival, LiDAR (Laser Imaging, Detection and Ranging), point-cloud generation from photogrammetry is cost-effective, portable, and versatile.
The Benefits of Photogrammetry in Ground-Based Surveying
Photogrammetry is the process of generating a 3D model from a set of 2D photographs. In surveying, this is done by taking two or more images of the same point from different angles. These images are then loaded into a photogrammetry software
Notwithstanding these technical differences, photogrammetry has always presented a very compelling "business proposition", for several reasons:
It's cost-effective. LiDAR equipment is expensive and requires specialized expertise to operate properly. Photogrammetry requires only a DSLR camera and software that can be run on a standard computer.
It's easily available. Due to the need for specialized equipment and operators, LiDAR resources are often hard to secure on short notice. Photogrammetry equipment can fit in the back of any surveyor's truck, and you can operate it yourself.
It's versatile. Photogrammetry technology has evolved to the point where it's a great general-purpose imaging tool. LiDAR has more specific use cases due to technical limitations, such as the bulk of the equipment, and difficulty in obtaining high resolution images.
Data Sharing & Analysis
Data Sharing
Drone Data Platform for Quarry & Mining
Cloud-based data visualization and analytics platform. No software to install, just accurate 3D site surveys Cloud base analysis.
Mine Planning
Drill & Blast design
Measure while drilling analysis
Haul Road AI
Rock mass rating
Stockpile: Inventory reporting
Fragmentation analysis
Tailing Management solutions
Access from anywhere, any device – Online & Offline
DRILL & BLAST DESIGN PLATFORM
Drone Data Platform for Quarry & Mining
Cloud-based data visualization and analytics platform. No software to install, just accurate 3D site surveys Cloud base analysis.
Mine Planning
Drill & Blast design
Measure while drilling analysis
Haul Road AI
Rock mass rating
Stockpile: Inventory reporting
Fragmentation analysis
Tailing Management solutions
Access from anywhere, any device – Online & Offline
Cloud base analysis
Drone Data Platform for Quarry & Mining
Cloud-based data visualization and analytics platform. No software to install, just accurate 3D site surveys Cloud base analysis.
Mine Planning
Drill & Blast design
Measure while drilling analysis
Haul Road AI
Rock mass rating
Stockpile: Inventory reporting
Fragmentation analysis
Tailing Management solutions
Access from anywhere, any device – Online & Offline